At least eight Arsenal fans have been arrested in the Ugandan city of Jinja while celebrating the club's win against Manchester United in the English Premier League.

Arsenal scored a dramatic last-minute goal to win 3-2 in Sunday's match against a fierce rival at the Emirates Stadium.

The result gave the Gunners a five-point cushion at the top of the table, giving hope to fans around the world that the club could end its 19-year wait to win the English Premier League.

On Monday morning, January 23, police intercepted a group of jubilant Arsenal fans who were driving in a convoy of about five vehicles as they attempted to join Iganga Road from Main Street.

The Police said the fans didn't have a permit to hold the procession which is a public order offence.

According to police sources, the Public Order Management Act (POMA), requires all organisers of public meetings and processions to notify the IGP, at least 3 days but not more than 15 days before the proposed date of the procession.

The notice should indicate the date, time, location, size, purpose and other basic information which is justified, to ensure the smooth conduct of the assembly.

Mr Baker Kasule, who was part of the group, told reporters that a police patrol vehicle pulled in front of them and asked each one of them to disembark and climb the patrol car which was destined for Jinja Police Station.

"I don't know what we have done but we were simply celebrating our victory over rivals Manchester United," Mr Kasule said, adding that "they are 20 supporters in total, all from Jinja City."

Kira Regional Police Spokesperson, Mr James Mubi, who confirmed the arrest said eight Arsenal supporters are currently in detention.

"They were holding a procession and you all know that when holding any gathering or procession, you must get clearance from the police," he said.

"Seeking Police clearance is also for your own good because there are people with ill-intentions, and not whoever dons an Arsenal jersey is a supporter,"

"I'm in a Police uniform, but I support Arsenal… We aren't against Arsenal but what is inside, the intentions," he added.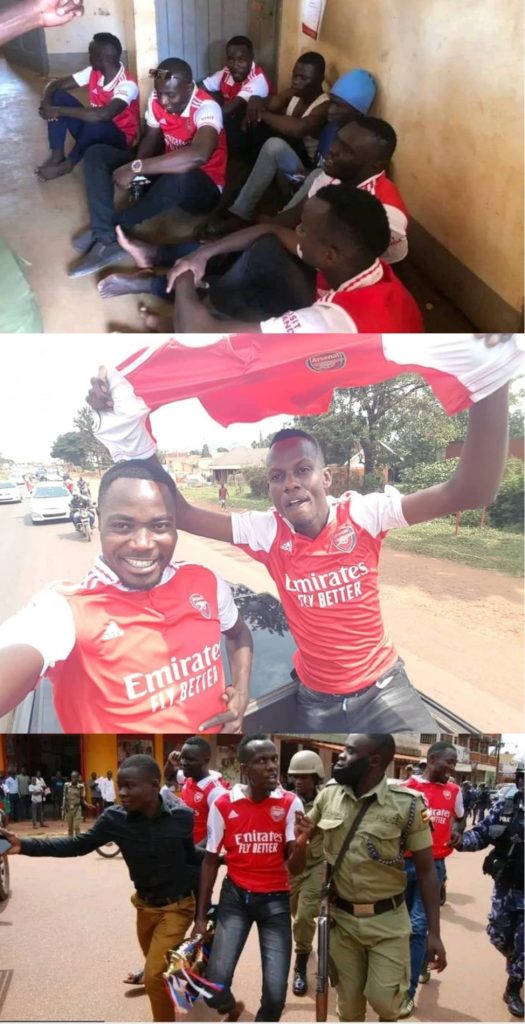 Video below…
The post Jubilant Arsenal fans arrested in Uganda for holding 'illegal' victory parade after club's win against Manchester United appeared first on Talk of Naija.
source
https://talkofnaija.com/jubilant-arsenal-fans-arrested-in-uganda-for-holding-illegal-victory-parade-after-clubs-win-against-manchester-united/